As a patient of Dr. Kelly, you will experience general and cosmetic dentistry from a comprehensive diagnostic perspective.
Dr. Kelly will address your dental concerns, and how they may affect your overall health, function and facial aesthetics. Rather than fixing isolated problems, you can expect us to look at the whole mouth, to develop a treatment plan that establishes a beginning and an end, for longer-lasting stability. Communication and planning play a key role in truly successful, long-term dental solutions. You'll remain informed, and an active participant in the dental therapy process.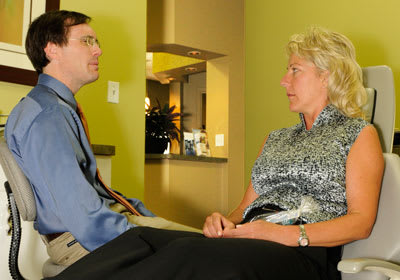 Striving for the best in modern dentistry
Not all dentists are the same. They have different philosophies, education and specialties. Dr. Kelly's education and knowledge base is constantly growing. With this continuing advancement, he can offer options that others dentists may not.
Generous in time and spirit
Time, empathy and trust are the seeds for growing lasting relationships. You can count on us to listen and respond to your concerns, with your initial visits devoted to learning as much as we can about you.
Hearing what is important to you is of utmost importance to us.
You are the decision maker.
You can and will make the best decisions for yourself, when given the tools, information and opportunity. Your health goals will dominate our discussions. Your understanding of your dental health will be included in our plan for you. You will be empowered to impact your own dental health through your own choices and actions.
If you aren't happy, neither are we!
You can expect a high level of integrity and pride delivered in the dentistry you will receive. Well-designed and exquisitely executed dentistry can work well, look great and last a very long time. This is what we aim for at the Chicago dental offices of Dr. Kelly. Make an appointment today with your Chicago dentist.